Castle Blog
William Fredrick Horry
One hundred and fifty years ago April 1st, 1872, was Easter Monday, it was also a day when history was made in Lincoln Castle.
It was a day when William Frederick Horry was due to meet with William Marwood, however it was not to be a social meeting as Horry had previously been sentenced to hang for murdering his wife, Jane. Marwood was to be his executioner.
William Marwood, however had never hanged anyone before or even assisted at an execution.
Executions at that time were the job of William Calcraft, who employed the traditional 'short drop' method. Calcraft was said to have an amicable manner but was often considered incompetent as many of his executions were bundled.
Marwood was to change these to a more humane method, the 'long drop'.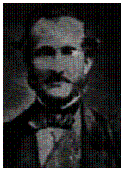 William Marwood
William Marwood was born in the village of Goulceby, Lincolnshire in 1818, the son of a shoe-maker. Although briefly apprenticed to a miller he took up his father's craft, eventually opening his own shop in Church Street, Horncastle, Lincolnshire.
But he also had many other interests including anatomy and was well read.
Having read a paper published in 1866 by Irish doctor Samuel Haughton entitled, "On hanging considered from a Mechanical and Physiological point of view", Marwood realised that increasing the height from which the condemned was dropped and correctly positioning the noose would result in breaking the neck, resulting in unconsciousness, death though followed afterwards.
At the age of 54, Marwood persuaded the authorities at Lincoln Prison to let him carry out the execution of William Frederick Horry.
On Monday 1st April 1872 in Lincoln Castle, Marwood employed the 'long drop' for the first time ever, with the execution being performed without any problems, impressing the Prison Governor.
Subsequently, Marwood was appointed official hangman by the Sheriffs of London and Middlesex, but he continued to improve the apparatus he used, practicing test runs with sacks of corn.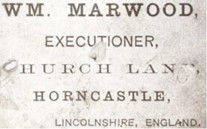 WM Marwood Excutioner
He had the words "Crown Officer" written on a sign outside his cobblers' shop and also had calling cards printed.
Over the next eleven years put 178 people to death, the majority of British executions in that period. His fame spread and there was a famous rhyme at the time – "If Pa killed ma, who killed Pa? – Marwood".
His last execution was in Durham on August 6th, 1883, when he hanged Sunderland bigamist, James Burton, for killing his eighteen-year-old 'wife'.
Four weeks later, on September 4th, 1883, Marwood himself died aged 65, from pneumonia and jaundice. He was buried at Trinity Church, Horncastle, Lincolnshire.
William Frederick Horry was born in Boston, Lincolnshire in the fourth quarter of 1843 and after leaving school became a trainee manager at Parkers' Brewery in Burslem, Stoke-on-Trent, residing at the George Hotel in Nile Street.
There he fell in love with the barmaid, from Nottingham, Jane Wright, but she left to work at the Sneyd Arms in Tunstall. Realising, he couldn't be without her Horry asked Jane to marry him, she agreed, and they were married in Wolstanton, Newcastle Under Lyme in 1867 and had three children.
They bought the George Hotel with money given to them by Horrys' father, also William.
Horry was a heavy drinker and was prone to possessive outbursts, believing Jane was flirting with the male customers. Eventually they separated in March 1871 with Jane taking the children and moving to Boston to live with Horrys' father. Horry was barred from this fathers' house
Horry was at that time dividing his time between the bars of Burslem, Stoke on Trent and Nottingham. Visiting Nottingham on Saturday 13th January 1872, purchased a revolver and 100 cartridges, advising the gunsmith that they were for his brother who was going to Australia.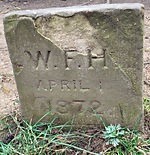 William Fredrick Horry grave
The next day he travelled to Boston where Jane agreed to see him on the Monday (15th). Horry followed Jane into the breakfast room of his fathers' home, then produced the gun and shot Jane in the back.
The bullet passed through her lung, and she died minutes later. Arrested for the murder, Horry appeared at Lincoln Assizes on Wednesday 13th March 1872, where he pleaded 'Not Guilty'.
The trial lasted three hours but it took the jury only 15 minutes to find Horry 'Guilty' and he was sentenced to be hanged. Appeals were sent to Queen Victoria from, Boston, Lincoln and Stoke on Trent but these were rejected.
William Frederick Horry is buried in the 'Lucy Tower' part of the Medieval Wall Walk at Lincoln Castle. The "footstone' of his grave simply detailing his initials and the date.
References:
Bill Greenwell - http://www.billgreenwell.com/page.php?id=67
Executed Today - http://www.executedtoday.com/tag/william-marwood/
Find A Grave - https://www.findagrave.com/memorial/15794380/william-marwood
Friends of Lincoln Castle.
Written and researched by Paul, Guiding Officer at the Friends of Lincoln Castle.
This blog was last updated 30th March 2022.