Castle Blog
The Oriel Window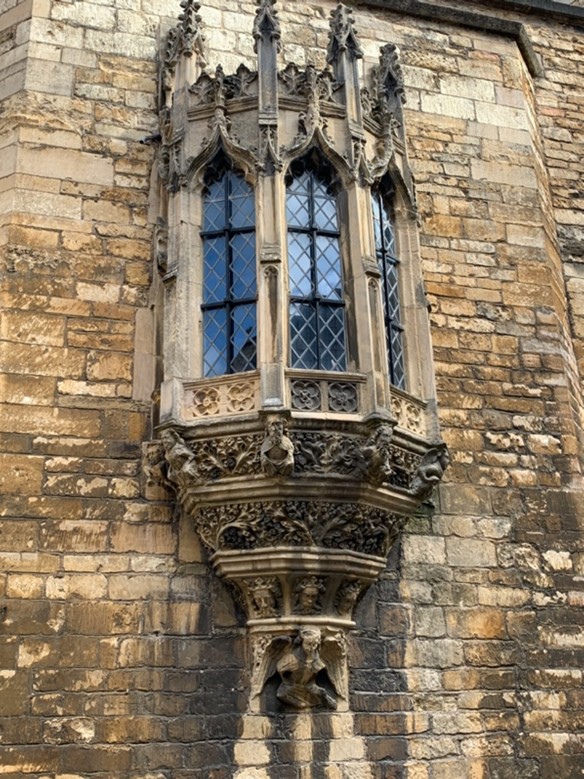 Oriel window
Walking into Lincoln Castle through its' East Gate there is a corridor formed by Georgian stone buildings, which date from the 1820s. High on the right hand wall (when entering) an Oriel Window , can clearly be seen, but 'Did You Know' that this Oriel Window has nothing to do with the Castles' history!
This window is potentially 500 years older than the walls it is currently sited on and was originally part of John O'Gaunts' Palace which was located on the lower part of the City of Lincolns' High Street, opposite St Marys' Guildhall. Originally built in the late 14th century by wealthy local merchants the Sutton Family, who were vassals of John O'Gaunt, it was steadily demolished between the mid 19th and 20th centuries.
The window was rescued from the demolition process by John Cust (1789-1853) who was 1st Earl Brownlow and Lord Lieutenant of Lincolnshire between 1809 and 1852. He paid £50 for it and had located in its' current position in 1850.
Whilst not an original feature to the Castle, it is a great example and it would have been a shame to lose it.
Written and researched by Paul, Guiding Officer at the Friends of Lincoln Castle.
This blog was last updated 7 February 2023.